How to Compose and Send Emails from Microsoft Account
Creating a Microsoft Account enables you to compose, format text, attached files, and send email messages to Colleagues, friends, and family members. Once your account is created, you can install the Microsoft app on your phone device and send an email. Here is the step to follow on how to compose a message and attached Files to it, to be sent via email using the Microsoft account portal.



How To Send Email In Yahoo Mail
1. Open any web browser on your computer
2. In the Address Bar input account.microsoft.com
3. Login with "Username and Password"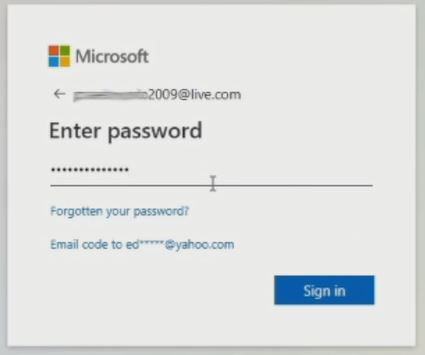 4. On the Home page in the top right corner of the screen click on My Microsoft Account to access the web portal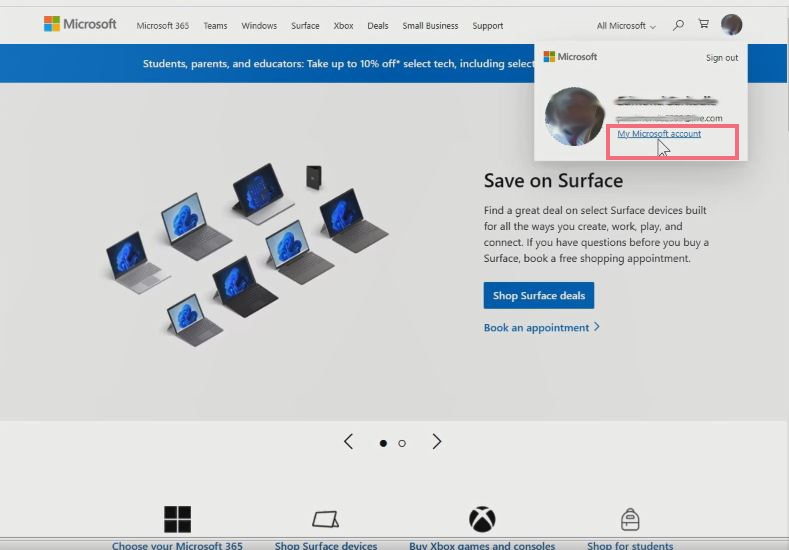 5. On the left-hand side, click on the app launcher tab and select the Microsoft app Outlook to access to send massages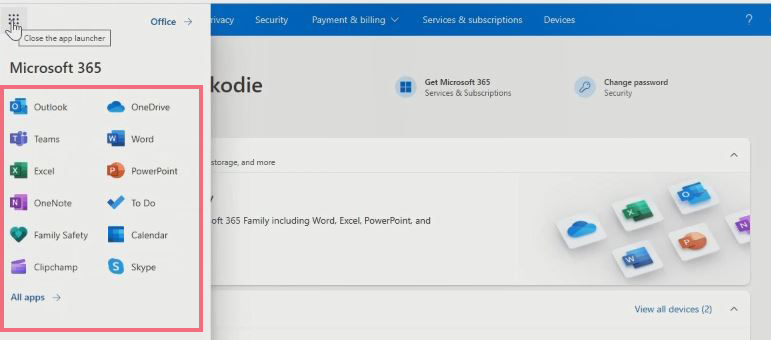 An Alternative Way to Send Massage using Microsoft Account
How To Send Email with Outlook Web
1. Launch the Internet browser on your computer (for example Google Chrome, Internet Explorer, Firefox, and Microsoft Edge
2. In the Address URL TYPE account.microsoft.com
3. Sign in with "Username and Password"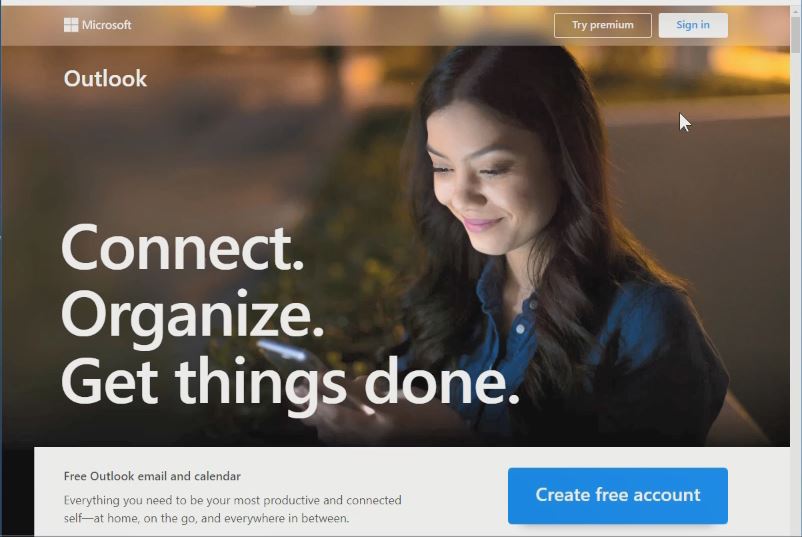 4. On the left-hand side, click on the New Message Tab to compose a massager in text format to be sent



5. Enter the recipient's email address and type the subject of the message to be sent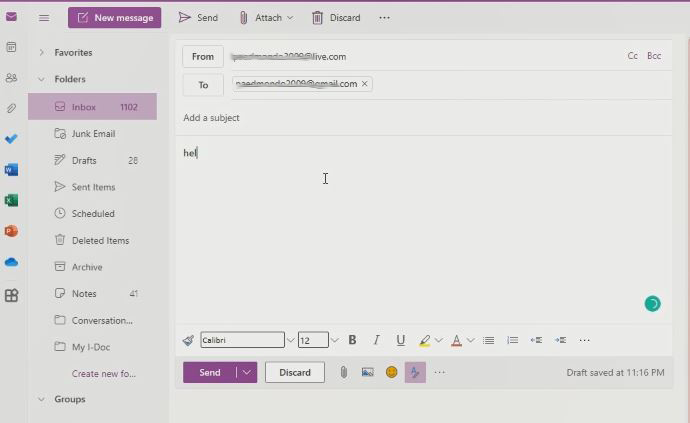 6. Type the Massage to be sent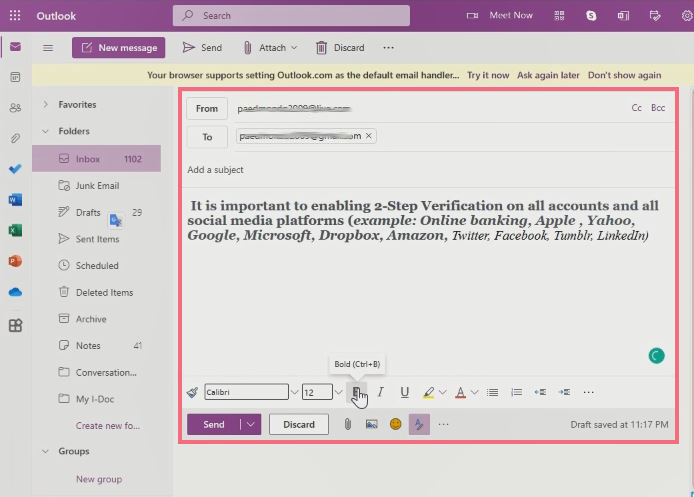 7. Under the massage you can format the text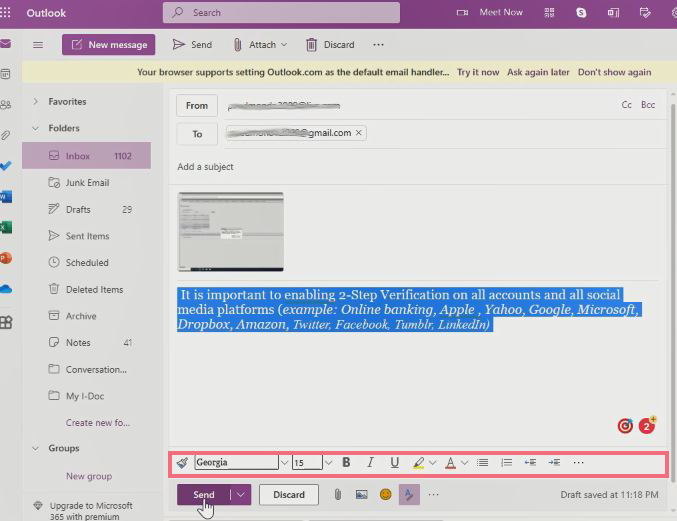 8. browse the attached files on the computer, select the files from your computer attached and send the massage.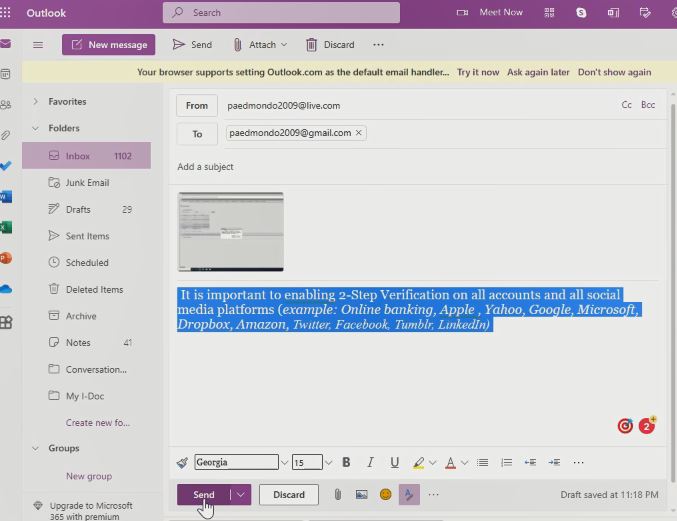 9. After that Click on Send Tab the to send the message via email.


Again, You can Enable Two-factor Authentication on your Account and Use Authenticator App like Google Authenticator App on mobile Phone to Turn On Two-Factor(2FA) on your Account that add an additional layer of security feature that requires you to input a six-digit code generated by the app, to be inputted to grant access account web portal and How to Add an Alternative recovery Email to your Microsoft Account that can be used to reset your account portal if you forget user Credential when login to Account.
I will also recommend you read the post on How to Add Recovery Phone Number For Microsoft Account How to use Microsoft Office Product Online for Free.
Conclusion
Now, you must have an idea on How to change your Microsoft Account Password. Ask your questions in the comments below. Try to follow us All our Social Media Handles Facebook, Instagram , and Twitter. Also if the post has been useful, Kindly subscribe to our YouTube channel to continue learning.
More Video